5-Point Posture Checklist When Working at Your Computer to Avoid Back and Neck Pain
5-Point Posture Checklist When Working at Your Computer to Avoid Back and Neck Pain
Written By Northgate Chiropractic Clinic on August 20, 2019
---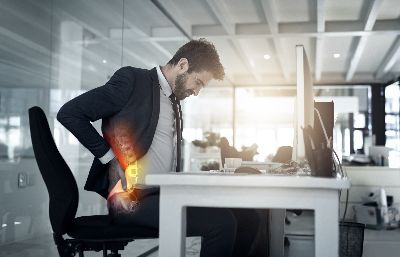 A happy, healthy neck and spine requires a concerted effort during the workday including proper sitting posture, proper computer posture and computer ergonomics. What does all this mean? At Northgate Chiropractic Clinic in Rochester, our dedicated team of experienced, doctorate-level chiropractic technicians will help you determine the area of your workday that is causing your body the most stress and offer simple solutions to ease the tension. Our clinic is unparalleled in its dedication to patient wellness and we offer a wide range of all-natural options to treat virtually any kind of pain.
5 Points for a Better Back
While sitting at work, give the following points some consideration throughout the workday:
1. Position of the Screen
The computer or phone screen should be positioned so you do not need to unnaturally hold your head at an upward or downward angle. Given the weight of an adult head, this creates unnecessary strain on the sensitive neck and upper back muscles. Remember: proper computer posture is key.
2. Proper Sitting Posture
Proper sitting posture is another essential key component to the checklist that cannot be ignored. First, be sure both feet are flat on the ground, your legs are uncrossed, and you are not leaning to one side or the other. Also, be sure you are seated the whole way back in the chair and your spine is flush with the back of the seat.
3. Computer Ergonomics
It is vital to take an inventory of your current work station and make proper ergonomic upgrades if necessary. An ergonomic computer chair can help support the lumbar system and promote proper computer posture. Further, an ergonomic mouse pad and keyboard can alleviate stressful tension in the wrists and arms.
4. Frequent Breaks
Throughout the workday, it is vital to stand up and move around. Short bouts of brief exercise and stretching can do wonders for an aching back and shoulders – and is a wonderful accompaniment to the proper posture techniques discussed above.
5. Limit Stress
In addition to computer ergonomics and proper posture, working on ways to reduce and handle stressful situations is vital to a healthy body. At our Rochester office, we offer massage therapy and lifestyle solutions in addition to spinal manipulation and innovative pain-relief techniques.
If you have work-related pain due to improper computer posture or lack of access to ergonomic computer equipment, please visit our Rochester clinic for an appointment right away: 507-285-1677.

Posted In: Chiropractic Neck Pain Low Back Pain